If you are in search of the best ping pong paddle out there then this is the article for you, here you will get an indebt understanding of all that needs to be done to achieve the best selection of a paddle for your level and style. Besides, we will provide you with a variety of fifteen paddles and all its specs, all this just because we care.
What is ping pong?
Just in case you are new to all things ping pong then, we will help you out. Ping-pong is a sport with players of two or four. Also known popularly as Table-Tennis, it is played on a net divide board with players using a racket to hit a ball to and fro. It is a fast-paced game with the winning aim of hitting the ball fast enough that your competitor(s) misses his, hers, or their opportunity of hitting back.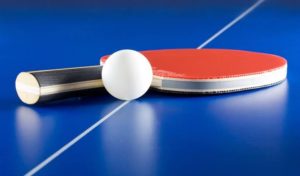 A game where players need to adjust to their opponents' gameplay, it is a worldwide organization, beginning in the 1920s, it has become an official game played by both males and females competitively and recreationally.
As an indoor game ping pong is played using a ball of 40millimeters in diameter, an indoor or outdoor table of 9ft long, and a paddle is otherwise known as a racket or bat made of single or dual side rubber protected laminated wood. There are also many strokes(hits on the ball), grips ( hold on bats) that make up the ping pong game.
Best Ping Pong Paddle for Beginners Reviews and Buying Guide 2021
Just as promised, we will give you a list of some of the most used ping pong bats available in the market with their specifications, pros, cons, and links to amazon purchase pages.
1. STIGA PRO CARBON- Best Ping Pong Racket for Intermediate
What Stiga Pro Carbon offers in its price tag is elegant because of its high-quality build process. It offers high-end materials in it, though at a low price. There are two Carbon fiber piles, the manufacturer used in the racket, which has a 7-ply blade in total.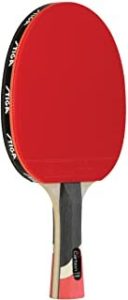 It makes the racket more economical weight, and it helps to generate accurate shots at the right place. Pro Carbon produces the most reliable and trustworthy spins. Some professionals rated it at ten, which implies a great impression in the paddle industry. Apart from that, it provides a speed of 9.9, which is a top-class speed, and this racket is an outstanding option for intermediate-level players.
Comparing with caliber rackets, it offers nearly the same quality at a quarter price tag. Only specs a player can feel after a couple of months the rubber becomes weak, and it needs to replace with a new one.
Specifications:
Performance-Level Table Tennis Racket with curved pro handle.
It has a 7 – ply extra light blade and a 2mm thick sponge.
Its rubber is characterized as  S5Performance Ratings; Speed – 99, Spin – 100, Control – 80
Pros
The two layers of carbon serve to improve rigidity and response.
It absorbs vibrations and transfers energy out of the handle while its ultra-lightweight balsa wood increases speed and reaction time.
The Stiga pro carbon generates extreme speed and good spin.
Also, the rubber replaced when worn out.
Cons
Stiga pro carbon is a heavyweight racket,
It is difficult to control, and it takes a while to get used to it.
Stiga pro carbon is not very suitable for inexperienced players.
Its rough handle makes for an uncomfortable grip.
The paddle is also more expensive than its counterparts
2. STIGA EVOLUTION- Smart Choice Ping Pong Paddle
One of the premium rackets, among many, is Stiga titan. Our experts have rated it above eight. The value it provides is higher than its competitors; nevertheless, the price is low. The paddle is suitable for the newbie who is taking his game seriously.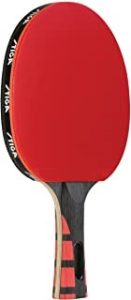 The performance of the paddle often depends on the blade of this racket. Wooden handles are most effective in offering the necessary power to any paddle. At the lower price range, Stiga Titan offers a wooden handle with a 5-ply. Many users said that the quality of Titan is lower than Stiga's other rackets as they use Triumph rubber on it. So there may have some questions about durability. 
Despite having some issues, it provides proper control over games. Most of Stiga's products are reputable, whereas, it does not contain high-quality elements. 
Specifications:
It is a Performance-Level Table Tennis Racket,
Performance Ratings- Speed: 96 Spin: 94 Control: 90
Handle: Concave Pro
Rubber: Premium
Sponge: 2.0 mm
Blade: 6-ply Light
Pros
Stiga Evolution is a Shock dispersion tube.
It gives a formidable control.
Stiga Evolution has a Decent spin.
It is great for defense
Cons
It is too light for attacking players
It has a reduced speed due to its lightweight handle
3. Butterfly balsa carbo x5-FL Tenergy 80Fx- Best Advanced Intermediate Ping Pong Paddle
We know the proverb "quality over quantity." Yes, people don't want to ruin their investment in a professional ping pong paddle. It will be more than an investment for many reasons if you buy Butterfly Balsa Carbon paddle as an expert.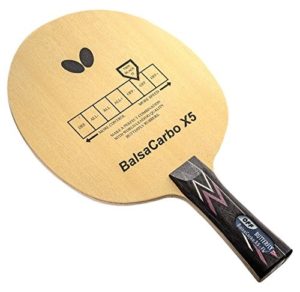 First of all, whatever you need in a ping pong paddle, you will certainly get that with extra benefits in this Butterfly paddle. The whole combination is rare for most of the paddles, but it has quality spin, super controlling, comfortable handling, super-fast power, most durability along with premium rubber.
Blades and rubber are the two most significant things in a ping pong table to get better performance. And you get both premium quality with this paddle. In the blade, it uses Balsa Carbon X5, and Tenergy FX rubber, which are the best in the market.
Intermediate-advanced player needs this paddle to acquire their goal. It is perfect for smashing with offensive play.
We have talked so many good things about this paddle but never said it is our best choice, why is that? Well, the price of this paddle not only seems it's actually high. So this amount of money can cut your pocket in a second.
Specifications:
Type: offensive, all-round
Surface: soft
Plies: 5(balsa core + 2 carbon)
Weight: 80g
Handle: 100x 27mm
Head: 159x150mm
Pros
Butterfly balsa carbon has a high speed and spin
It is ideal for the power to play with great spin
Balsa carbon has a soft feel and great touch
It has a carbon fiber that is full of strength
The paddle contains lightwood for a great hitting feel
It is quite forgiving for players with imperfect technique
Butterfly Balsa Carbon has good control
It is good for attacking
 Cons
Its thick handle may require some getting used to
The blade is fragile and easily damaged
It has low durability and consistency
4. DHS Hurricane II- Best Shakehand Grip Ping Pong Paddle
One of the most necessary things about quality ping pong paddle is how players grip the paddle. From three different types of grip, the DHS Hurricane II is the perfect paddle for Shakehand grip. Besides, that players can use Asian-style grip too.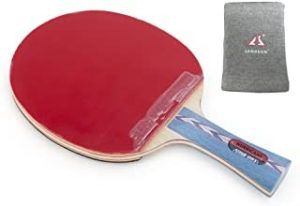 DHS Hurricane is a top-rated racket, which has a higher capacity for professional players. As a result, it is an expensive paddle from our previously reviewed some.
Being a China-originated paddle, it has more features for the Asian player's styles. The paddle gives a higher spin because of its slick rubber on the front part of it. It has a lower weight than many other paddles, which provides extra comfort over control to the players.
One primary spec you can find about the paddle, its rubber's tackiness loses quickly. Nevertheless, people who want speed and control in their game choose DHS Hurricane.
Specifications:
It has a rubber and wood combo
It comes with a carrying case
Pros:
It has a long handle for more comfort
The paddle is larger than others
 Cons
It is not suitable for beginners
The racket is quite expensive
5. Palio Expert 2- Best Advanced Beginner Ping Pong Paddle
If we consider three stages of advanced into beginner, intermediate, and master, then Palio expert is for beginner-advanced. Maybe it seems awkward, but it's right from the perspective. Because when you get super controlling, best speed, and better spin in a paddle, you would certainly pick that without hesitation.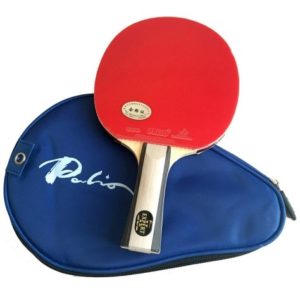 But always there is some exception for few products not to disgrace but to fit with better output. This is one of them. It has a premium quality rubber, which generates better spin than others out there. Learning spin control is the crucial point of an advanced beginner's point.
So it can boost your gaming level faster and generously. Not only the spin but also it handles a better quality speed when you smash or return smash.
So in quick attention, it offers a full package for the players. Our expert recommends trying out this paddle often.
Specifications:
This is a heavyweight paddle with good durability;
It lasts longer than average.
Both sides of the paddle fit with Palio CJ8000 rubbers, and its blade is a collaboration between Palio and Expert Table Tennis.
The performance ratings are speed – 6/10, spin – 9/10, control – 10/10
It also comes with a free case.
Pros
The Palio Expert 2, when compared to other similar rackets, has a good value for money.
It has a comfortable handle, which allows for maximum control and is therefore suitable for beginners.
The tackiness of the rubber provides for increased spin.
Cons
On the downside, its speed is decent at best and hence, it is not very suitable for advanced play.
6. Stiga Supreme- best Lightweight Ping Pong Paddle
A very few intermediate ping pong paddle has lightweight, which is a practical thing in controlling the counter and return spin. This racket is one of less weight with a higher price for those who want to spend money freely.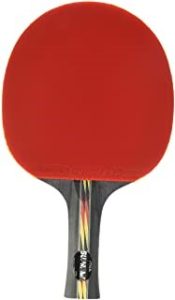 Supreme is a perfect paddle for those who like to play a defensive game and focus on controlling the situation. The blade quality and 6-layer made a significant difference in this paddle over others. Stiga has added an extra layer with Stiga Supreme at this price, whereas most other paddles contain 5-ply at such price range.
Lightweight construction allows faster play with accuracy. Like other low-budget paddles, it has a lack of generating power like a pro paddle. Since it is a less-weight racket, it is the top choice for players who love to play an offensive and defensive game.
Specifications:
The Stiga Supreme is an ITTF approved tournament-level racket.
It has a 2mm broad sponge.
An extra light 6-ply blade and a flared handle grip.
Pros
An optimal balance of weight and speed is a good start for first-time table tennis players.
It is incredibly lightweight and offers excellent control.
Cons
This paddle doesn't generate lots of speed or spin
It is not well suited for intermediate or advanced players.
7. Killerspin jet 600- Top Master Level Ping Pong Paddle
Among other rackets, Killerspin Jet 600 borders around the master level racket. The paddle offers a higher quality value, which can not be seen in the upper-middle price tag. It is a higher-end competition-level racket at a reasonable price for those who are still working on their game progress.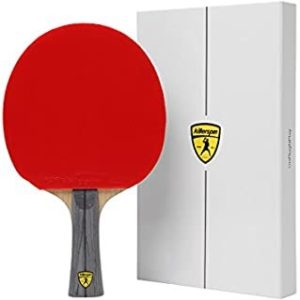 This is not a wondering matter that with low weight, how this 5-layer paddle offers excellent control over the game. The tackiness of rubber provides power, and spin depends on the rubber quality. So premium quality rubber makes this paddle unique to produce the best spin and counter spin as well.
The question that arises about the paddle is comfort and speed of play. It may take some time to adjust the balance as a new paddle, but afterward, it will feel like a super paddle. Though the handle may cause some handling problems for the pro-players, otherwise, it is okay with the rest.
For people who are looking for a superior racket in a tiny pocket, Killerspin Jet 600, is the top choice.
Specifications
It has a flared handle.
Its blade is made up of 5-ply wood.
It's got a sponge width of 2.1mm and comes equipped with an ITTF – approved Nitrx – 4z rubber.
Besides, it comes in a free storage box case for protection.
Pros
As its name goes, the Killerspin jet 600's aggressive spin capacity makes it perfect for attacking.
It also has good speed
Cons
It could be quite expensive.
It can be challenging to control and would require some getting used to, which makes it unsuitable for beginners.
8. Stiga Apex- Best Beginner Friendly Ping Pong Paddle
Beginners usually need a budget-friendly paddle, which offers the least value at this price. So we have come across another Stigas product that is suitable for beginners. Stiga Apex holds the 5-ply wooden blade, which is unexpected in beginner-level paddles.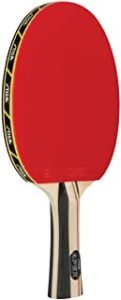 A little weight makes it exceptional, among others. The wooden blade helps to produce high-quality shots with better spin and control. Holding this paddle offers a comforting feeling.
Because of the WRB feature, it allows extra speed and returning spin during the game. Considering its price, it offers over performance in controlling and growing skills.
Stiga Apex is an exceptionally reasonable ping pong paddle for those who are passionate about taking their game to another level. It is advised by the experts and mentors not to go for a faster paddle for the starter. Before mastering the game, it is one of the best paddles recommended for beginners.
Specifications:
Its performance ratings, according to the manufacturer, are; speed – 65, spin – 52, control – 80.
The sponge is 2mm thick with a 5-ply extra light blade.
A concave flared handle.
Pros
Stiga Apex is lightweight but, at the same time, quite durable.
It is an inexpensive option, which makes it more appealing to buyers.
The paddle is very comfortable to hold and offers excellent control.
Cons
The Stiga Apex generates modest speed and spin at most and is not recommended for advanced players.
9. Butterfly 401- Best Skill Upgrading Ping Pong Paddle
A very few ping pong paddles can be as effective as Butterfly 401 racket for beginners to upgrade their skills. The rating of eight in both controlling and spin made Butterfly extraordinary, along with its lower middle range price.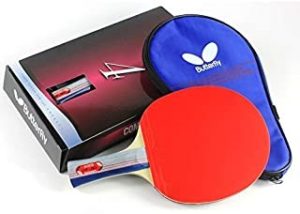 It is an excellent option for hardworking beginner to extend their skill through reasonable investment for this paddle. It is quite clear from the user review that its rubbers are tackier than other ordinary paddles as those are its competitors.
The built quality of its blade is also premium since rough use can not destroy its extended life. It may lack in controlling the ball balance sometimes. Other beginner's racket provides more control in play than this one.
Specifications:
Standard red and black 2.1mm rubber.
Its blade made of 5 – plywood, which makes for a very lightweight paddle.
It has the traditional Shakehand style handle with a flared grip and a 2.1mm thick sponge.
Its performance ratings are given as; speed – 8/10, spin – 8/10, control – 8.5/10
Pros
The tackiness of the rubber helps generate spin.
It is especially suited to intermediate players as it offers the right balance of speed, turn, and control.
It also comes with a paddle case to encourage durability.
Cons 
The Butterfly 401 does not offer great speed
Its' got a handle that is slightly shorter than usual; this could affect grip and may prove to be uncomfortable, especially for players with larger hands.
10. Stiga Titan- Best Rated Ping Pong Paddle
One of the premium rackets, among many, is Stiga titan. Our experts have rated it above eight. The value it provides is higher than its competitors; nevertheless, the price is low. The paddle is suitable for the newbie who is taking his game seriously.

The performance of the paddle often depends on the blade of this racket. Wooden handles are most useful to offer the necessary power to any paddle. At the lower price range, Stiga Titan offers a wooden handle with a 5-ply. Many users said that the quality of Titan is lower than Stiga's other rackets as they use Triumph rubber on it. So there may have some questions about durability.
Despite having some issues, it provides proper control over games. Most of Stiga's products are reputable, whereas, it does not contain high-quality elements.
Specifications
The manufacturer's performance ratings are as follows; speed – 80, spin – 77, control – 82
It is ITTF approved, with a 5 – ply extra light blade and a 2mm thick sponge.
Its handle is characterized as a concave composite.
Pros
The Stiga Titan is very lightweight
It is one of the few paddles of its quality, which is suitable for younger children.
It boasts increased grip, decent control, and affordability.
Cons
It does not have the capacity for hard-hitting, and since it is lightweight.
It may not be very durable.
11. Killerspin Jet 200- Master Stroke Generator Beginner Paddle
An entry-level player needs such a paddle, which will be most supportive of improving the player's skill. So Killerspin is one of the best entry-level ping pong racket for them. The paddle's price is not higher quite similar to Butterfly 401 and Stiga Titan, yet beginners choose this racket on their initial level of playing.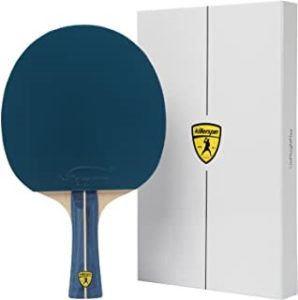 It can partially compete with Stiga Titan, but its control is higher demanding. Being a new paddle in the market, it was not easy to find an accessible and comfortable place. However, Killerspin Jet200 had proved their aggressive design and premium quality in the ping pong equipment industry at a reasonable price.
Like other paddles, it uses 5-ply blades, made from wood, is not comparable with Stiga Titan ut there is no issue found from users. Killerspin Jet200 has the best quality rubber of its competitors.
The rubber offers the freshest look and compromising spin-over shots. The racket is not appreciatable for the advanced player according to its overall value. The speed rating of this paddle is quite lower than its competitors. Whereas, beginners can hold up to this one to learn control and spin over shots with this paddle.
Specifications
The Killerspin jet 200 comes in a beautiful casing.
Which, on its own, is an excellent incentive to purchase?
Its blade made of 5 – plywood with a flared grip handle. Its sponge is 2.1mm thick, and it is not heavy.
Performance ratings of this racket are; spin – 7/10, speed – 6/10, control – 8.5/10
Pros
It is inexpensive, has a comfortable handle grip.
It is suitable for beginners and recreational players.
 Cons
The Killerspin jet 200 is not ITTF approved.
Its speed and spin are low.
12. Killerspin jet 800- best table tennis bat
It does not make a huge difference when you buy a high valued paddle no matter what the brand is, and it clearly provides the best performance. Yes, we are talking about Killerspin Jet 800 racket, one of the expert's choice paddles. For instance, Chen Qi the gold medalist use this paddle, and most of the best player does as well.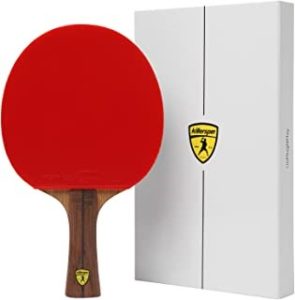 Why is this model an expert choice? Well, the paddle uses a wooden blade along with 7-ply. Those layers are carbon fiber made, which ensures stability and power in speed shots. Besides, the lightweight helps to generate smooth control over the ball and playing condition.
It's not a wonder that the rubber it uses is premium. Since it is a high price tag racket, definitely its rubber fits with it and generates superior spins. So it is clear that what you for the paddle returns you more value than that.
If you want to be the king on the battlefield, nothing can come around you and the Jet 800 model. Now the choice is yours whether you want to e the king or the typical audience.
Specifications:
Speed – 9.5/10, spin – 9/10, control – 8/10
This is a great paddle with a 7 – ply blade (5 wood  + 2 carbon layers).
It is constructed with ITTF approved Nitrx – 4z rubbers.
It has a high tension 2mm thick sponge.
Pros
It is well suited for advanced level players
Its heavyweight provides for higher speed.
Cons
The Killerspin jet 800 having a style that is more catered to attack play,
It is quite unfavorable to defensive playing, mainly as a result of its heavyweight.
Another disadvantage is that it is costly to acquire
13. Butterfly Zhang Jike Box set
China's one of the best paddle box sets is Butterfly Zhang Jike which has won the world champion award two times. Apart from that, it has won the London summer games gold award along with the silver award at the Rio games.
Like some other popular paddles, it is also made of five plywood along with reinforcing carbon fiber that helps better spotting and provides faster playing opportunities.
The rubber it uses has the best construction with the best materials and helps to control spin and speed accurately. The professionals love this paddle and often recommend it for intermediate players. The design is outstanding and comes with four balls along with two paddles in a stylish paddle case.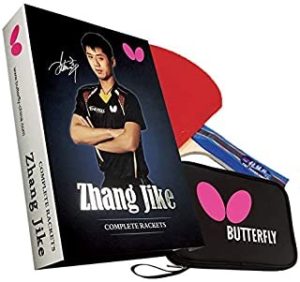 Specifications
7 – ply blade composed of 5 plies of wood and two plies of Arylate carbon.
The paddle has an attacking style.
Its handle has the traditional Shakehand style with a flared grip.
The performance ratings as given by the manufacturer are; speed – 92.5, spin – 87.5, control – 55
Pros
This paddle, being mainly catered to advanced play,
It is swift and has the right balance of speed and spin.
To top it off, it comes in a beautiful casing.
 Cons
The Butterfly Zhang Jike Box set may just be one of the most expensive table tennis rackets you can find.
It may have a lot to offer, but one can't help but think if it is worth the price.
It is not at all suitable for beginners and requires time and skill for greater control.
14. Butterfly Viscaria Blade
The blade is a crucial thing in the table tennis racket. So remembering that point Butterfly has used a top quality Arylate blade which is made from carbon. This blade ensures the prominent sweet spot and regular power with spin and control.
In most cases, top players use this blade beside Zhang Jike's paddle since both of them are from the same brand, Butterfly. Though they have used different carbon fiber from Zhang Jike. In this case, they have followed the Butterfly Timo Boll ALC blade. The very unique handle of this racket FL and ST is made in Japan.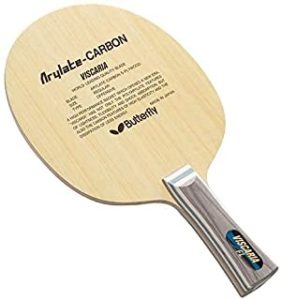 Specifications:
Similar to the Zhang Jike Racket of the same brand, the Butterfly Viscaria blade consists of 5 plies of wood and two plies of Arylate carbon, for a total of 7 plies.
It's got a flared handle and performance ratings for speed and control, of 94 and 57, respectively.
Pros
Its equipped with shock absorption technology, which increases speed and generates lots of spins.
It is suitable for advanced players and is ITTF approved.
Cons
Once again, much like Zhang Jike, it is quite expensive,
It difficult to control
Not suitable for beginners.
15. Integrafun ping pong paddle set
Very few paddle sets are ITTF approved. This paddle set is one of them. They have used seven plywood along with tacky rubber and a bouncy sponge which help spin and speed control besides perfect spotting. Since it is a paddle set, it comes with 4 paddles and eight 3-star ping pong balls along with a paddle case.
The grip feels comfortable for both small and big hands as its handle is Shakehand style. Because of its balanced weight, it is easy to play and control the ball.
No matter how long you play, it will provide consistent ball bounce and control. This model is perfect for all sorts of people including kids to adults. They love to play with this paddle as a fun-seeking or practice for kids. You can give someone as a gift and certainly, they will love it.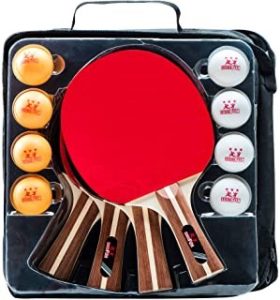 Specifications:
Enclosed in a unique and portable cloth casing
The paddle set includes 4 rackets and 8 balls each with 5 – ply wooden blades and a 1.8mm sponge.
Pros 
It is family-friendly and great for beginners.
Its tacky rubber generates the right amount of spin.
Handles are long and comfortable, and it has excellent value for money.
 Cons
It is more suitable for recreational and not advanced play.
Paddles may have a pungent smell.
What Else Do You Need With Ping Pong Paddle?
If You are thinking of being a professional in this field, you need some other mandatory things. Like ping pong tables without this, you can not play the game; balls are crucial as well, the robot is to take your practice session to the next level, shoes are that material that will be needed for the game rule.
Or if you want to play this game as a good source of entertainment, or want to spend quality time with your family members. Then outdoor could be your preference too. In that case, you need to buy outdoor tables. You can set them in your yards or in the garden or wherever you want; it's up to you.
Or you can play this game to keep you fit. Do you have ideas about the health benefits of ping pong? Of course, you do. Ping Pong is an outstanding game to keep you fit and your family members and friends as well. So you should not miss out on that chance to get a healthy life with this fantastic game.
How do I choose the best ping pong paddle for me?
Now that we have a basic understanding of what ping pong is, we can move on to how to choose the right paddle for you.
Ping pong is an easy sport to learn, that is why so many players around the world play it. Knowing the right paddle, though, isn't as easy, as there is a vast ocean of things to set right first. Don't fear; we are here to guide you.
Play-style:
The first thing to consider is what play style you fall under. Whether as a professional or an amateur, this is important. There are two main play-styles tagged Defensive and Offensive.
Defensive play is protecting yourself from losing, using various skills such as the Lob, the chop, the push, and the block. All these ensure that whatever attack your opponent throws at you, you can safely get out of it first. This style is excellent for new players.
Offensive style is where a player attacks his or her opponent entirely intending to knock him/ her off their game. With techniques like the smash, the hit, the counter-hit, the flip, and finally the hoop, this is most suited for more advanced players.
Sometimes as a beginner, you might be unsure which you fall into. We advise that you take a little practice run with a borrowed bat and possibly have a professional player or an advanced player watch you play and then decide which you fall under.
There is a possibility also that you can fall under both, which regularly happens to first-timers, where you end up using bits of both the offensive and the defensive style. Don't worry; it is a form, although not professionally, but you can begin with that and then perfect your style choice.
Play level:
Playing level is the next step to take. Paddles don't dig a hole through your pocket, but of course, some paddles are in the higher end of the budget. Once you realize your playing style, you should also consider how far you plan on going in this game. Are you just going at it for recreational purposes, without any interest in advancing more now than your garage or a sports club or friendly matches?
Or are you thinking of going pro no matter how little? Or are you already something of an advanced player but are in search of the best ping pong paddle for you? Well, whatever the case may be, it is wise to choose a budget-friendly bat that fits your playing level and is sure of some degree of durability, efficiency, and effectiveness.  Once you assured of that much, then you can move on to the next step.
Grip:
The next step to consider is what hold you wish to use. To do this, let us give you a rundown on the available Grip patterns in ping pong.
The Shakehand: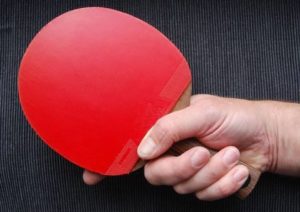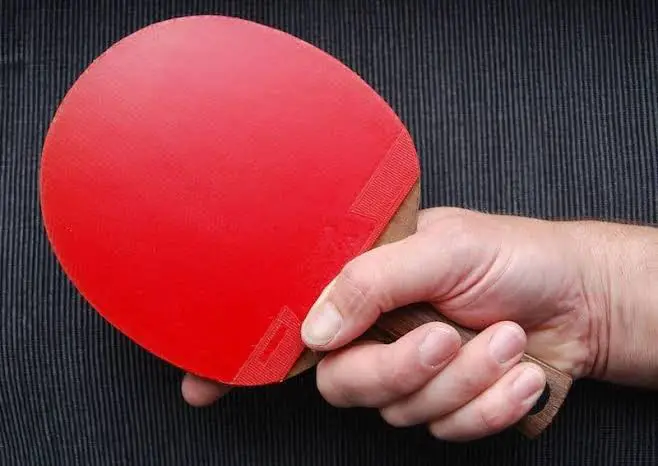 The Shakehand is by far the most popular ping pong grip in use. It looks very much like a Handshake hence the name. In this grip, the paddle remains between a player's thumb and the first finger, with the first finger, kept outstretched on the paddle, and the rest of the fingers wrapped around the handle.
Its' popularity in the world of western players also earned it the name of western style. Some notable players who have kept to the form are Vladimir Samsonov, Zhang Jike, and a lot more in and out of the player of the western world. The shake hand grip has two shades to it, the shallow shake hand and the deep Shakehand.
Shallow Shakehand Grip
The shallow Shakehand grip, while the first finger and other fingers remain in their position, the thumb will rest on the blade.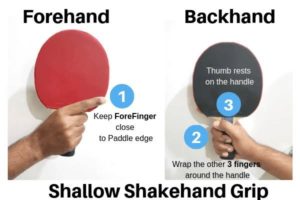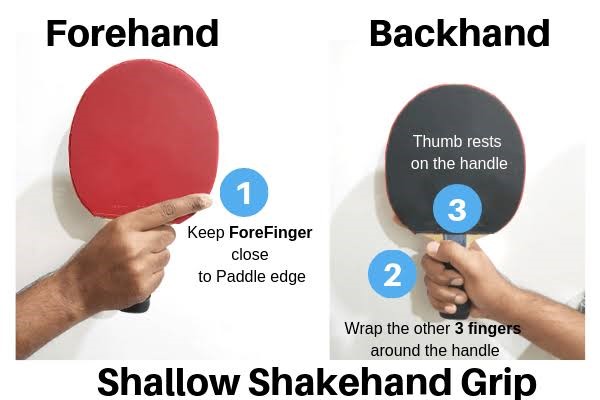 Pros of this method are:
The Shakehand grip gives room to shift the angle of the paddle due to its loose grip.
It offers to roam to move around the wrist, which in turn provides more substantial power and spin to attacked balls.
It is usually the first style beginners feel comfortable with
Perfect for both a front and a backhand stroke.
Cons
The only negative thing found about this grip is a situation called the cross-over point. The players are very likely to be indecisive on which hand side to use, front or backhand side, which can result in a losing round for inexperienced players who are not quick enough to make that decision.
Deep Shakehand Grip
And in the deep Shakehand grip, the thumb will rest on the rubber.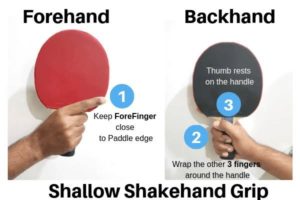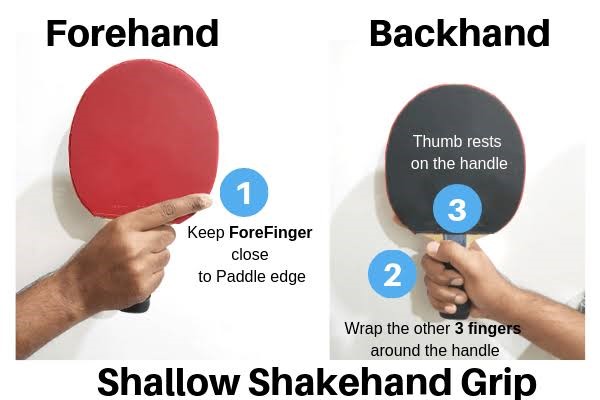 Pros
It gives firm hold on the paddle which stops excess movement in a players hand
Reduces flexibility for players who use controlled strokes when playing
Good for both back and front hand strokes
The Shakehand is the best defensive playing style for the players.
Cons:
same as with the shallow Shakehand grip
The Penhold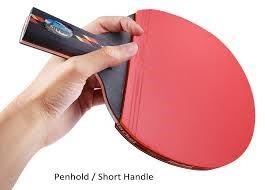 It is the second most widely known style. In this style, the thumb and the first finger used to hold the bat with the two fingers. And it is placed at the front, while the rest of the fingers are folded behind the bat's head. It is similar to how one might hood a pen. There are three types of Penhold grips; the Japanese/Korean grip, the Chinese grip, and the reverse backhand grip.
Japanese/Korean Grip
The Japanese/Korean grip:  in addition to how the thumb and first finger are placed, the last three fingers are kept tightly together in a straight upright manner.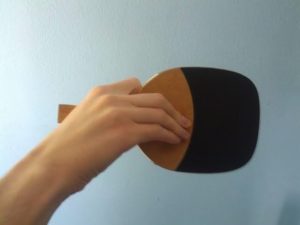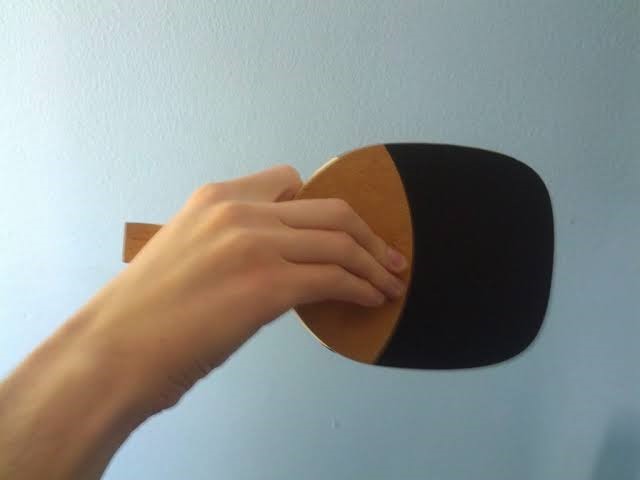 Pros
Gives a powerful forehand stroke
Provides a healthy spin and serve
Suitable for players who favor a distance play
Cons
Causes movement restrictions
Difficulty in mastery for learners
Causes difficulty in delivering a backhand stroke
Needs players with prowess in foot control
Chinese Penhold:
most widely used and extremely popular amongst players in the Asian world. Players hold the racket with the blade facing down, with players almost always standing closer to the table than those who use other styles.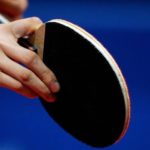 Pros
Perfect for players who play close to the table
Enables flexible wrist movement
Ensures powerful attacking serves and strokes
Perfect for front hand strokes
There is only one side, the forehand side, which eliminates the problem of crossover.
Cons
Due to having just one side, there is difficulty in performing any backhand movement.
There is also the reverse penholders' style, which is not widely used. There are also several other styles that, though, do not have as much popularity, are still in use by some players in the ping pong world, such as the V grip, the Seemiller, and a host of others.
The Paddle: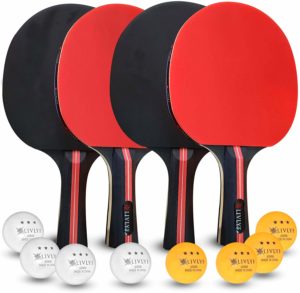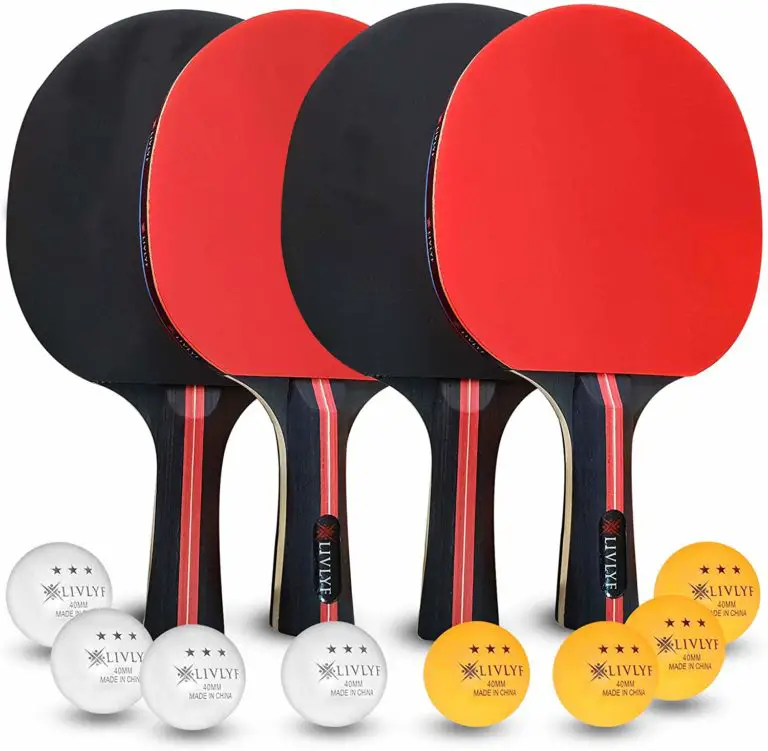 The racket is the depth of it all. There is a lot to be discussed here, and you can be sure that we will leave no stone unturned.
First of all, most blades come in an inch measurement of 6 to 10; this is from top to bottom. It comprises 6 parts, the handle, the blade, the forehand sponge, the backhand sponge, the forehand rubber, and the backhand rubber. Sometimes you can see a fully assembled paddle, but a good number of times, they come disassembled.
Assembled paddles tend not to be favorable for advanced players, but they can be okay for beginners who are yet to understand the various available combination options. If you have to use a thoroughly done paddle, be sure to buy from some of the more renowned names like Butterfly, Stigma, or Yasaka. At least you are assured of quality. If you choose to assemble a paddle to your taste, then read on.
Handle:
The first thing to know when assembling your racket is the type of handle available and which best suits you. Although there is no specific best handle, there are several handles available, and it would be wise to try out a few before finally purchasing one.
The best handle should be between 100 to 102 mm long for those who need an average length, and for those who enjoy the long handles, then 103 to 104 should do fine. Only get the short-length handle if you have chosen a Penhold style. There are five main branches of handle: the Flared, the straight, the Chinese, the anatomic, the conic.

The Flared:
It is the most commonly used to handle. It is thin on top and broader at the bottom
Characteristics
Best suited for players with a forehand play prowess
Best for a lob style play
The Straight:
the round version is the basic style of the straight handle, while the square version is a recent addition used by some ping pong production companies. It also comes in a flat shape that is used by defensive or oversized blades.
Characteristics
It comes as round or square
Is suitable for movement between the front and backhand
Good for backhand power balance
The Chinese Characteristics
Preferred by Penhold players
Perfect for serving
Gives wrist freedom
Good for forehand attack
Not suitable for backhand strokes
The Anatomic:
similar to the flared angle it differs only by the bump at the middle that fits the hand
Characteristics
Useful for those who use the hitting technique
Not suitable for the lop technique
Not very good for long-distance play
Conical Characteristics
Not a popular use
Useful for those using all-round styles
It gives discomfort to those with big hands.
There are more handle types like the Donic Dotec handles that are very comfortable, almost like the anatomic handles. It is very suitable for those hat suffered injuries to the wrist. And there are unique shapes that come in all sorts of weird styles but can be beneficial to those who suffer varied disabilities. As an added advice, if most rackets available to you seem too small at the handle, you can use grip tape for a better feel.
Blade:
Most professional blades are 85% natural wood with an allowance of bits of carbon or glass fiber or compressed wood; every added material cannot exceed 7.5% of a total thickness of 0.35mm. But starters can always use non-professional blades and, as they advance, can decide which quality of blade suits their game style.
Some blades are made of plastic or little wood compositions, though not suited for professional use, they can be handy for beginners who want to try out the ping pong game for the first time.
Composite blades are made for the speed and consistency and less of the spin of the ball, and blades. This doesn't mean that one cannot find a composite blade that is on par with the turn and feel capacity of a wooden blade, and there are those wood-based blades that are also similar in the consistency and speed of composite blades, it all relies on which blade you can find.
Forehand and backhand sponge:
Rarely available separately from the rubber, the sponge can come alone, and making a choice depends on your grip and play style. There are a few measurements available for sponge, 1.8mm, 2.0mm, 2.1mm, 2.2mm, 2.3mm, or max.
The sponge is used to compress ( when a ball pushes down the sponge) and to store energy ( when the sponge bounces back the ball). Sponges ranging at 1.6 to 2.5mm are used mostly by offensive players, and those from 1.5 to 2.0 are used by all-round players, while defensive players mainly use the OX, meaning no sponge to 1.6mm. For new players, it is advisable to use a thinner sponge
The Rubber:
Most times, come pre-attached to the sponge,  but if you have to choose which rubber, then you need to know the available types and their uses. The ping pong rubber is a major determinant as to how well you play, and there are two main types of rubber sheets the inverted and the pimple.
The inverted rubber sheets are also called the smooth rubber sheets because the pimples or otherwise called pips (the sort of spiky tops of the rubber) are hidden inside the sponge, thereby showing off the smooth side.
It provides the most spin, good for hits and lops, all around, and defense players. There are two types of inverted or smooth rubber sheets: Tacky or sticky rubber and the Anti-Topspin. Their difference is in their spin generation and grip.
Anti-Topspin: it has a smooth surface, which gives little and slow spin and speed. It is also used more for the block technique. It also has low friction, which only nullifies spins created by the opponent, with its ability to reverse the balls' spin the anti-spin gives its players the benefit of disorienting the opponent since it is still a not so popular type of rubber.
Also beneficiary in slowing down a ball, it gives control to players who use the chopping technique. Their weak attacks make them more used as a backhand piece.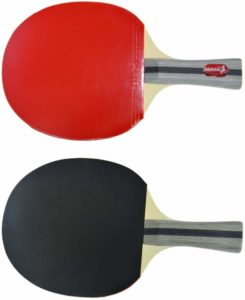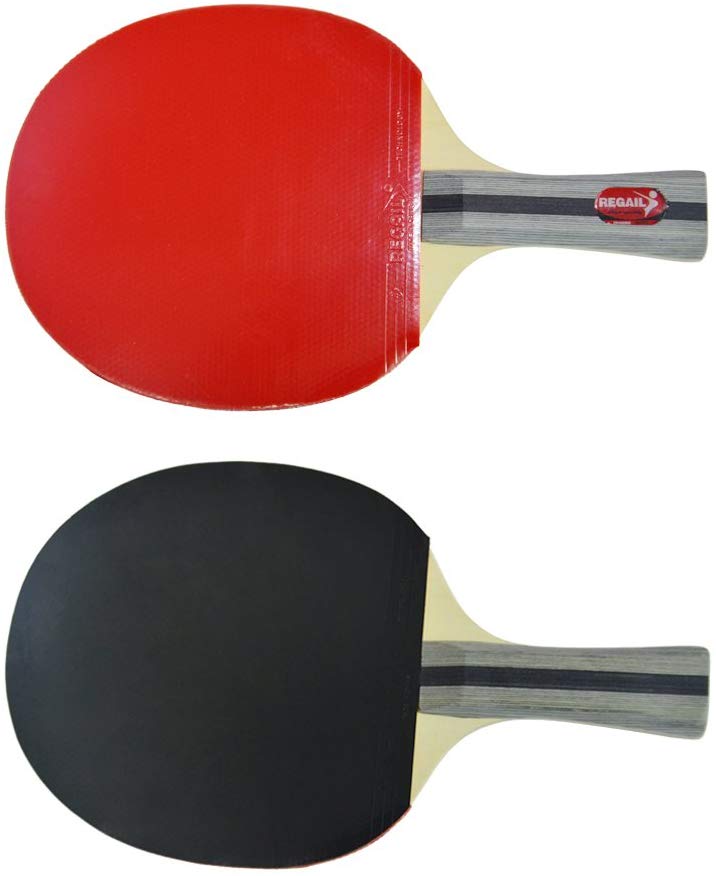 Tacky or Sticky rubber: used best in ensuring ball spin basically because of the tackiness in the rubber that meets the ball. This means that there is a direct correlation between how tacky the rubber is and how many spins the ball will have.
The higher the rubber tackiness is it provides more topspin, and the lower the tackiness of the rubber, it generates lower spin. This makes it perfect for lop and spin techniques, however, there is a negative to this type of rubber. That being that players need to figure out the amount of energy the opponents' ball is spinning with and how much the impact on the players racket the ball will cause, with this knowledge, players can determine the best angle to use.
The next type is the pimpled rubber, which shows off the pimpled side of the rubber and hides the smooth side. Popular among beginners this type  is further divided into two the short pimple and the long pimple
The short pip: their pimples are broad with a little stick; its bumpy surface is most times used as a means of not creating a lot of spin in the game since it has low friction. When there is no underlying sponge to the short pip rubber, it is the referee to as Hard Rubber.
Short pip is used a lot by players who stand closer to the table, all around, and defensive players. Short pips give control and work well for the smash and block techniques. Because of its ability to reduce the ball spin, it is perfect for performing return serve as long as the player knows the right angle and power to use.
Long pips: they contain longer pips than short pips. They are long and thin and are widely used by defensive players. They slow down and reverse the spin played by the other competitor. Best suited for a defensive player, offensive players find it hard to play with it, this makes it a popular choice for single side use. But just like the anti-spin rubber, they can cause disorientation to the opponents.
The sponge and rubber both determine the spin, which refers to the turn of the ball when a loop technique is used. It is highly reliant on many factors other than the rubbers spinning rate, with its sensitivity to strokes played and the speed of the incoming ball.
Speed refers to the swiftness of the ball, which also relies on different factors like the blade, or the thickness of the sponge, or different techniques. It also used to determine the efficiency of one rubber to the other, and it also refers to the rate at which the ball goes back at forth the players.
And control of the ball, which depends on the thickness and hardness of both, to get proper monitoring, you would need to give up on one of spin or speed. Players who play defense games are more likely to use rubbers with slow speed while offensive players go for the high-speed rubbers. Note that the more speedy a rubber can get a ball to be, the harder it will be to manage.
Sponges with higher thickness give better speed and spin while giving more paddle weight and a cushion feel, and those with more thinness give better control while providing a feeling of wood and lightweight.
Other things to consider when choosing the best ping pong paddle are the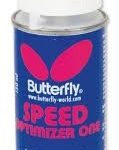 Glue: thought the most time come side by side the rubber, still, if you have to buy them separately ensures that you purchase a professional rubber glue that is water-based. They should come fully packed with the cleaners. Some adhesives have speculated to support the speed of the ping pong rubber. There are two types of glue used by ping pong players, the quick glue sheets and the water-based ping pong glue.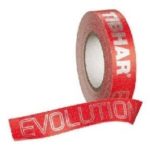 Side tape: also known as edge tape, is used to improve the ping pong racket's balance and reduce the possibility of early rubber peeling. Set around the edge of the ping pong bat, this piece of equipment can be used to cover only the wooden part of the bat or the wood a corner of the rubber. Although not a compulsory accessory, it is still popularly used by players because of the cosmetic finishing it gives to their paddles. The tape can be as comprehensive as 12mm and can be used to hide rough bat edges and poor rubber gluing finishes.
Grip tape: they are used to give firmness and control to the ping pong handle. Used less by professional ping pong players, the grip tape still regarded as an accessory to the paddles. It also ensures that new players don't have their rackets sliding about their hands when playing. The grip tape also works as a cosmetic attachment to a players paddle, since they come in various colors, favorable to each players style
Buying guide to get the best ping pong paddles
Ping pong has become a widely played sport around the world with players of all ages and gender, and with the ease of learning and a relatively cheaper cost of equipment (that is with other big-name sports), the ping pong market is at its peak.
Buying a paddle is the most personal part of a ping pong game, as it reflects who the players are and their gaming techniques and prowess. Most players have taken great care to buy the right paddle for their gaming needs, and why shouldn't you too?
Whether you are a new player, an advancing player, an already advanced player, or a pro, you will be in need at some point in time of paddle purchase or change. If that is so, then this guide is for you. Here are the essential things to keep in mind when buying a paddle.
Budget
Cost is a very crucial point; this lets you know what exactly you are willing to get. If you are budget tight then you should keep in mind that you cannot get some of the best qualities with a limited budget, a bat-like Butterfly balsa Carbo x5- FL, is a top-notch pro paddle and won't come budget-friendly.
So if you wish to get the very best quality and durability you should be open to a budget of $200 and more, But again the ping pong sports has a bat for all, and one can find bats of $60 and below like the Stiga Evolution which can cost around $40-50.
Assembly
Pre or assemble bats: would you prefer a pre-assembled bat, or would you prefer buying a completely unassembled bat. Remember that purchasing a pre-assembled bat means that there might be things you don't like about it and might not be able to change immediately or at all.
If you can live with that, then ensure you buy from producers with some reputation in the ping pong world, try Yasaka or Stiga or Butterfly or Killerspin. All these are reputable, and you can at least believe that they won't want to pull down their name with inferior products.
If you choose to assemble a bat yourself then be prepared to take on some work and trust me when you are done, you will be glad, lookout for a good rubber, sponge (if the sponge isn't already attached to the rubber), blade, glue and handle. Best to go for the same product.
Blade Type
Blade: when buying a blade alone ( this is if you choose to assemble your paddle), look out for the following specs if you decide to go for a composite blade over an all-wood blade.
If it is a blade made of a single material, then look for those that have one of these Carbons ( most times black), Zylon ( yellow), Kevlar ( blue), Aralyte ( cream in color), or fiberglass ( most times dyed but naturally transparent colored). If it is a mixed material composite blade, then look out for Carbon and Aralyte, Carbon and Kevlar or Carbon, and Zylon.
Play-style
Buy only paddles that favor your play style concerning the handle, blade, and rubber. Ensure that you know beforehand your playing style, defense or offense, and your grip preference, shake a hand, pen grip, V grip, or others. Once you are sure about that, then your shopping would be a lot easy.
Review
Just to give you some more confidence in your buying choice, check out the product you wish to buy beforehand. Many reports are showing the complete detail of many ping pong paddle products. Look out for the pros and cons and then the specifications, and lastly, customer reviews and see how well you can manage that product, if it suits you and how best to keep it long-lasting.
It's less advisable to buy newly named products, especially when you are budget tied or when you plan on using it professionally, you might be in for an unpleasant surprise. Stick to those who have stood the test of time and those that might even offer some warranty.
Once you have done all these checks, you are sure to be purchasing the paddle for you, and if done right, you just might land yourself a signature paddle.
Why are ping pong paddles two colors?
There are two approved colors of ping pong rubbers; red and black. The reason for this began quite a while ago when ping pong advanced from being just a leisure sport to a competitive game played by many internationally. Back then, in the beginning, players, to win, would use various rubbers of the same color with the hope that they can confuse the opponent into not knowing which side had more speed or spin force, which was quite useful.
In time the ITTF international table tennis federation concluded that rubbers must be made of two separate colors so that opponents can get a clue on which side of the bat does better and at what. To create fairness, in both hands, the rule was approved, and only
rubbers with the ITTF log on them.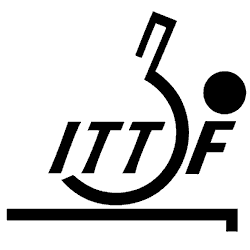 Do ping pong paddles make a difference?
Most professionals have made a clear statement that getting the right mix of paddle assortment can lead to better performance while playing, and the truth is that yes, they are right.
Various accessories to the racket have varied impacts on how the game might pan out. With the correct settings, you can have a more effective and dominant paddle than that of your opponent. Getting the right rubber and sponge that works well with your playing techniques ensures that each move you play goes just as you planned or better.
Paddles made for a defensive player who uses more of the chop or lob techniques won't work right for an offensive player who uses the smash or loop techniques. Rubbers that have less spinning power will be ineffective to defensive players and more useful to offensive players.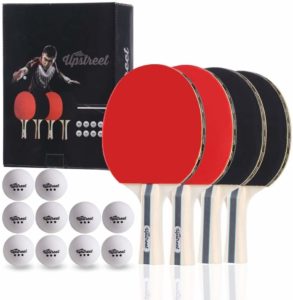 The sponges serve as an improvement in the way the balls will react and counter-react; getting this phase right gives the player better spin and help to make each play a powerful and possibly winning move.
While the blade and handle provide comfort and control to players, ensuring that you can effectively execute your desired game while also supporting your defensive style and counter moves.  The different handle types not only provide comfort but also has a preference for some playing styles and techniques.
Short handles are better for Penhold players, and longer handles are favored by those that play the Shakehand style. Bigger handles are better for those with big palms, and some players prefer smaller handles that they can make to their size with the use of grip tape.  Although ping pong is more about the player's skills and techniques since a perfect player can use any type of bat and still probably win, yet it isn't an excellent choice to use any paddle out there, getting the right paddle will give you the right edge when playing.
In the end, to increase the player's skills and agility, the right paddle works well to improve a player's personality as well as his or her chances of being the Victor at the end of a match.
What is the best Ping pong rubber then?
There is no yes or no answer to this question. The only solution would be that the best rubber is that which fits your play style and your techniques. Now you have a more than basic knowledge of the types of rubber, their uses, and their pros and cons, after making your choice on the play style you want to use, you can decide which rubber suits your personality and fit it into your equipment.
All these are things you need to know before you choose the right best paddle for you.
What is the best ping pong paddle to buy?
With ping pong, there is no seemingly best thing for all players, only more preferable choices. There are too many things to consider from a player's comfort to a player's style and grip. The popular bat then is one that has the right weight for you, which will enable you to swing it around freely.
The best bat is one that has the most favorable grip to you, that gives you control and agility while ensuring comfort. The best bat is the one that has the best rubber for your play and handles for your style. Whatever suits your personality and style best is the best ping pong paddle to buy.
Picking the Best Table Tennis Racket
Ping pong is a fun game for all, and whether you choose to play it professionally or for fun with friends, there is no harm in getting the best ping pong paddle for you. But whatever choice you end up with, be sure that you think through all that you need and pick that which covers all your wishes or at least the basic need.
After purchase remembers to change out the rubber once it begins to wear out and for those who end up buying a grip tape, be sure to have them changed regularly as they all assist you to be a better player. For new players, it is fine to experiment a little with different paddles until you advance so much that you are sure of what you want in your paddles.