What do you think about buying the Joola Tour ping pong table which is for indoor games and competition grades?
Most of the customers questioned us about this table. So considering these valuable questions, we are going to review the Joola Tour Competition Grade Indoor Ping Pong Table.
We will cover the most significant issues regarding the Joola Tour table like other we did in our other articles. We have reviewed the Stiga Advantage, Joola Inside, and Joola Rally TL based on the features made materials and the customer's reviews.
Joola is one of the best brands of ping pong accessories in the market for a long time. They have achieved customers' trust and love providing the best quality products over time.
So the Joola Tour is one of their quality products that has been loved by the users. Its build quality, durability, and magnificent structure made the table very well used among ping pong lovers.
What're other things people loved in our reviews is the best ping pong tables, you can go through and get the best ideas before buying the ping pong tables both indoor and outdoor.
Features of The Joola Tour Ping Pong Table – Players Must Know Before Buying
There are three specifications in the Joola Tour ping pong table. Because of its three different models. The first one is Joola Tour 2500, the second one is Joola Tour 1800, and the third one is Joola Tour 1500.
So if we go for the specification, then, first of all, all we can say is about the thickness of 18mm with a beautiful surface made of MDF.
The exceptional reason for the popularity of this table is the table halves, which is helpful for the ping pong overs to store in a very short place.
Besides that, one can play a single mood game by bending one half as the opponent. Then come to the locking system of the wheels which stables the table during the game. The undercarriage of the table is solid with the metal of powder coat.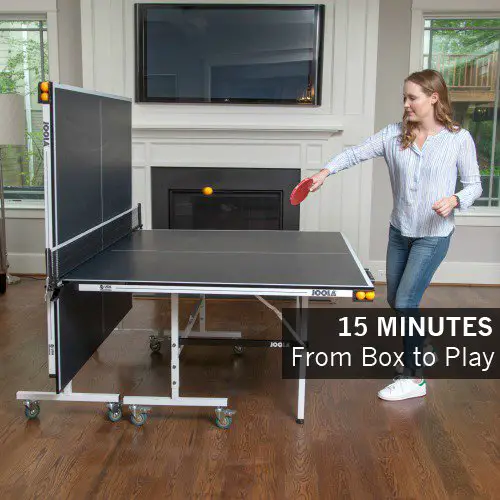 We have mentioned earlier in this article that the table is a competition-grade table. It is widely used in tournaments approved by ITTF.
Except that, a lot of ping pong lovers use this table for their recreational purpose, and some of them use this for their family fun. So overall we can say it is widely used among the ping pong tables that are privileged in the market.
The table surface is incredible to look at because of its beautiful deep blue color. The exterior is made of some unique material that protects the table from severe damage.
Specifications of The Joola Tour Ping Pong Table
The Joola Tour is specially made for Indoor game Bu you can use it for outdoor as well. So both indoor and outdoor.
Easy to move and store in a tiny place because of its halves.
Playback mode.
Competition grade table.
MDF made.
Robust undercarriage.
Wheels locking system.
Use caster beam to keep stable.
Use levellers in the legs to adjust the height.
PD: 108 x 60 x 30 inches
SD: 62 x 24 x 65 inches
Play D: 9″ x 5."
Shipping weight: 198 lbs
Provide Post & Net.
Assembly
People often think that assembling a ping pong table is very hard. But for the Joola Tour professional grade ping pong table, it is a piece of cake. After unboxing you will get everything just around your hand. Just you need to equip the parts with the crew. And it will not take more than 10-20 minutes. After putting the net set and the post you are ready to play.
Tabletop
The most concerning issue before buying a ping pong table is how the tabletop is? In most of the Joola tables, the tabletop is of the best quality. For Joola Tour, it's premium quality as well. For the Jolla Tour 1800, the tabletop is 18mm and 25mm for the Joola Tour 2500 and 15mm for the Joola tour 1500.
They have used MDF on the surface of the table. Which makes the surface very smooth and eye-catchy. And it provides perfect ball bounce.
Net & Post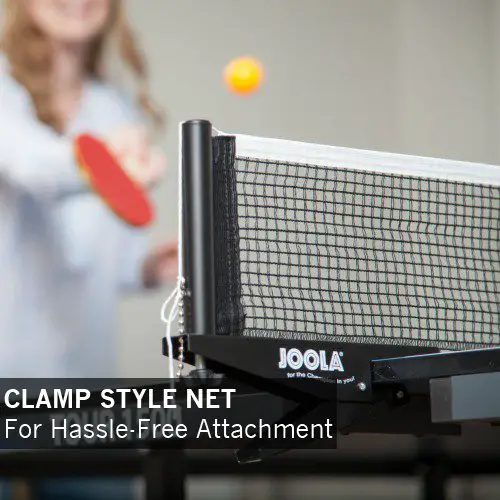 Along with the table, you will get the net set and the post. Generally, a good brand does not provide such thing free with their products. But Joola, in this case, is providing this to the customers.
Setting up the post and net is straightforward for this table. Clip the post in the middle of the table and set the net with it. It will adjust the tension of the net automatically.
You should be careful when you are off the net set after yo game because your unawareness can hugely damage that so that you will no longer be able to use it.
Playback Mode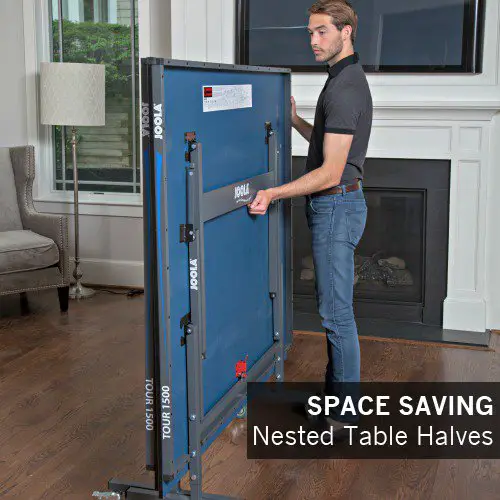 As you know, the Joola Tour 1800 has two halves. So it will create the opportunity to play alone when there is no one around you or skill up your practice alone.
It can Solve your space shortage too. When you don't have enough space in your room to set up the large size table, you can easily fold it and can continue the game of your own.
Apart from that, the best facility you get because of halves is storage. You can keep it in the short corner of a room in your house. So that your daily activities won't be hampered because of the table.
Pros
Pros
Very durable table.
Playback mode.
Table halves.
Made of MDF.
Wheel locking system.
Easy to move and storage.
For indoor play.
Cons
Cons
Sturdy Undercarriage
You can use the independent halves of this table as two separate tables when needed, making it easy to fit into smaller spaces. Each half has its own net and posts so you don't have to worry about matching up the pieces when setting up your game space.
When not in use, simply fold down one side of the table and roll it away on its sturdy casters until next time!
The JOOLA Tour 1500 features an MDF surface with a black undercarriage that provides excellent bounce quality while remaining durable enough for long-term use.
The 1/2 inch laminated top ensures even ball distribution across the entire playing area while providing consistent rebound speed off both sides of each panel.
In addition, each corner includes 4 locking caster wheels which allow players to easily move their tables around without worrying about them tipping over during playtime!
Stable 1.5 inch Steel Legs
A total of four sturdy 1.5-inch steel legs support the table and give it a reliable and stable foundation. With adjustable leg height, you can make sure that your playing surface is leveled with the surrounding floor.
Rubber leg levelers ensure that your floors won't get scratched up by plastic pads, and they allow for easy adjustments to compensate for any irregularities in levelness.
3 Inch Locking Casters
Lockable Casters are equipped with a latch on the wheel rim. This allows you to lock the caster in place, or keep it from rolling on an incline or over rough terrain. Lockable Casters are suitable for outdoor applications, where caster wheels are subject to dirt, grit, mud, and other environmental hazards. The locking mechanism makes the caster safe by preventing accidental movement of this table when you're not around.
Available in stainless steel or black powder-coated aluminum, lockable casters offer security, efficiency, and durability for heavy equipment applications.
Why you should buy this table?
The JOOLA Tour Table Tennis Table is the perfect table for anyone looking for a fun-filled game of table tennis at an affordable price.
This awesome table tennis table comes 95% pre-assembled and is ready to play in just 15 minutes. A sleek frame and separable nesting halves make this table perfect for compact storage.
The professional-grade wood composite surface creates a consistent ball bounce and durability. Additionally, the sturdy apron and steel legs are used to create a durable table that lasts for years.
What type of plywood is used for Ping-Pong tables?
Table tennis tables are not just made out of plywood but can be made out of medium-density fiberboard (MDF), particleboard, and even MDF with a thin sheet on top.
The benefit of using plywood in table tennis is that it's thin and not very heavy, making them easy to carry around when you want to put it away. The downside is that they are thin, only inch which would make them less durable than other materials like MDF.
MDF is much thicker and more durable than plywood, but it's also a heavier and more expensive material to buy. It is recommended that users use MDF for outdoor play because it can hold up against the elements better than plywood.
The downside of using MDF in ping pong tables outside is that they are heavy which makes it difficult to bring the table inside when you're done playing.
So for people who have a permanent space dedicated to their ping pong, they'll use MDF because it's cheaper and more durable than a fiberboard/MDF top paired with plywood sides.
The Final Verdicts
Finally, we will recommend you to buy this extraordinary table as we reviewed this table based on customer reviews As well as your expert's analysis.
As we got so many good customer reviews and we talked with them about their playing experience and got very positive answers from them.
So nothing can be better than expert reviews. Besides that, the features, the build quality, and the competition grade keep the table in front of any in its level. So to get an outstanding ping pong experience you can undoubtedly buy this one.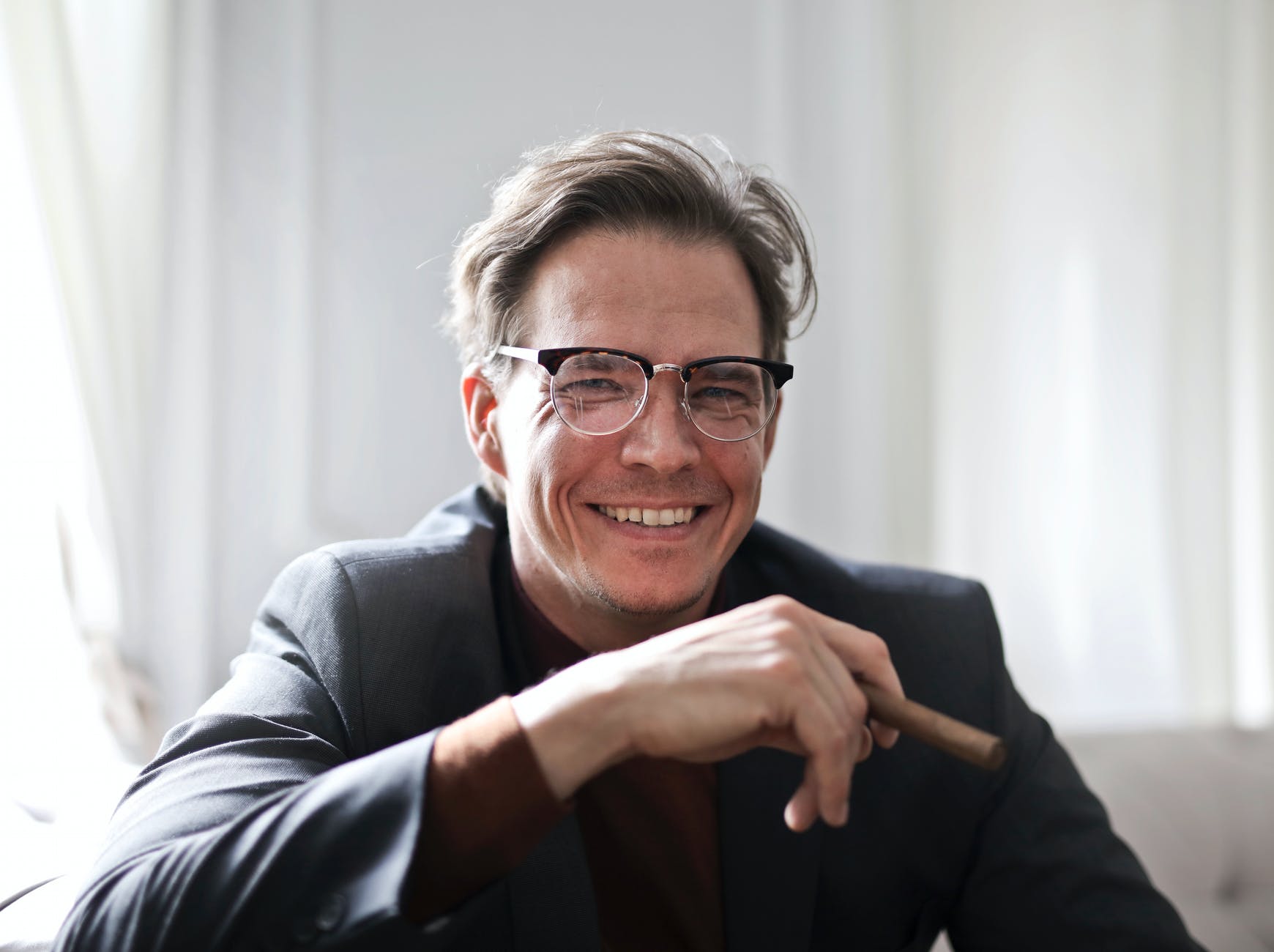 Hi, My name is Benjamin Fink and I am the author of the ping pong reviewed blog. I am a sports person learning and sharing my knowledge with others about ping pong and other sports.
I have been playing ping pong for the last 17 years and teaching people about the game and writing new things about the game through this blog When finding something new. I have participated in serious ping pong tournaments in my country.