Awesome, thinking about air hockey! From the very beginning of our childhood, we spend a lot of time playing this game, even in adulthood, with the best air hockey table.
Very few of us can think about sports without air hockey in childhood in-home or even at a party, or a recreational get-together with friends or a home party.
But lack of knowing how to choose the best air hockey table for home, or kids are sometimes challenging for us.
Without a perfect air hockey table, we can not arrange such kind of occasion most often since most of the table does not last long.
A quality air hockey table makes our party time more enjoyable in our game room. Not only does it help our recreation, but also it helps us to become a professional through practice.
So here we have talked about the best ways to find out the best quality air hockey table for improving your game skill, or for recreation. Stick into the review through the list and pick the perfect game table for you in your budget, or even for the value.
Types of Air Hockey Tables
When embarking on the journey to find the perfect air hockey table, it's crucial to understand that not all tables are created equal. There are several types of air hockey tables, each catering to specific needs and preferences. Let's delve into the various options:
Home Air Hockey Tables
Home air hockey tables are designed with casual gamers and families in mind. These tables are typically compact and suitable for home use, making them a fantastic addition to your game room, basement, or even a spacious living room. They come in a range of sizes to fit different spaces.
Pros:
Ideal for recreational play with friends and family.
Compact and space-efficient.
Available in various price ranges to suit different budgets.
Easy to assemble and maintain.
Cons:
Not built for heavy, competitive play.
Smaller size may limit gameplay for serious enthusiasts.
Commercial Air Hockey Tables
Commercial air hockey tables, as the name suggests, are built to withstand heavy use in commercial establishments such as arcades, bars, and gaming centers. These tables are robust, durable, and engineered for intense gameplay.
Pros:
Built for high-traffic environments, ensuring longevity.
Sturdy construction can handle aggressive play.
Often equipped with advanced features like electronic scoring systems and sound effects.
Cons:
Larger and heavier, requiring more space.
Typically more expensive than home tables.
Overkill for casual or home use.
Tabletop Air Hockey Tables
Tabletop air hockey tables offer a convenient and portable gaming experience. These compact versions can be placed on any flat surface, from dining tables to coffee tables. They are perfect for those who want the air hockey experience without dedicating permanent space to a full-sized table.
Pros:
Extremely portable and can be used anywhere with a flat surface.
Affordable and space-saving.
Suitable for kids and beginners.
Easy to store when not in use.
Cons:
Limited in size and gameplay compared to larger tables.
Not suitable for serious or competitive play.
Multi-Game Tables with Air Hockey
If you're looking for versatility, multi-game tables with air hockey might be the perfect choice. These tables combine air hockey with other games like pool, foosball, and ping pong. They are excellent for families or individuals who enjoy a variety of gaming options.
Pros:
Offer multiple gaming options in one table.
Space-efficient for those with limited room.
Fun for family and friends with diverse gaming interests.
Cons:
Each gaming surface may not match the quality of a dedicated table.
May require more maintenance due to various moving parts.
Understanding the different types of air hockey tables will help you narrow down your options based on your specific preferences, available space, and budget. Whether you're aiming for casual fun or serious competition, there's an air hockey table out there that's just right for you.
The Best Air Hockey Table Reviews that Worth Your Money
If you can not decide which table will be perfect for you, you do not need to worry at all. We will go through each positive and negative side, and we give you better ideas and specifications that will help you to choose the perfect product without hesitation. So here are our first table recommendation starts:
 1. Atomic Top Shelf 7.5'- Our Top Choice Air Hockey Table 
There is always tons of option for choosing an air hockey table for you, but Atomic Top Shelf 7.5' can provide better value than others. A genuine arcade model, the Atomic table can rule over other designs, including a 120V motor, which generates a bunch of air that is helpful for play.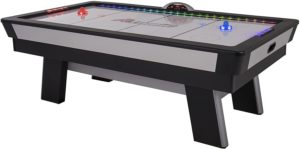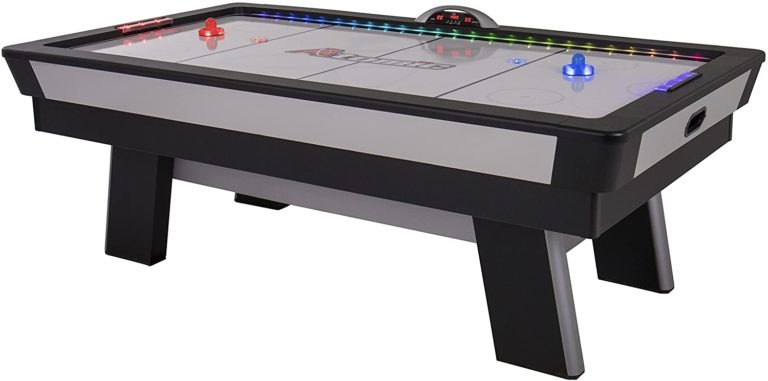 To move the puck, you need to create more pressure for other models looks like you are fighting with it as their motor supplies less air than is necessary to play. So, in this case, the Atomic top shelf is way ahead of any other table, which helps to play for a long time.
You do not need to move alongside to see the score whereas it has a beautiful digital scoreboard that automatically updates after a player turns a point. The table's legs are keen to hold up the table tightly during the game. It can not wobble at all.
 Specifications: 
90 x 49 x 31.2 inches

Weight around 220 pounds

Shipping weight: approximately 230 pound
Pros
Compelling design with top-speed PVC playing top
Sound effect and LED lighting made it perfect for kids
Strong and composite construction
Cons
Some people claim broken scoring, need to check correctly.
 2. Viper Vancouver 7.5-Foot 
Very first look from anyone in your game room to Viper Vancouver 7.5-Foot will ask you to play a couple of games. Comes with an extra featuring digital scoreboard on both sides helps both the player to have a look over their scores at the same time.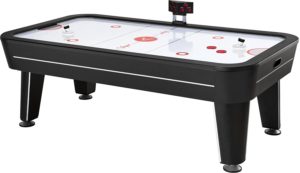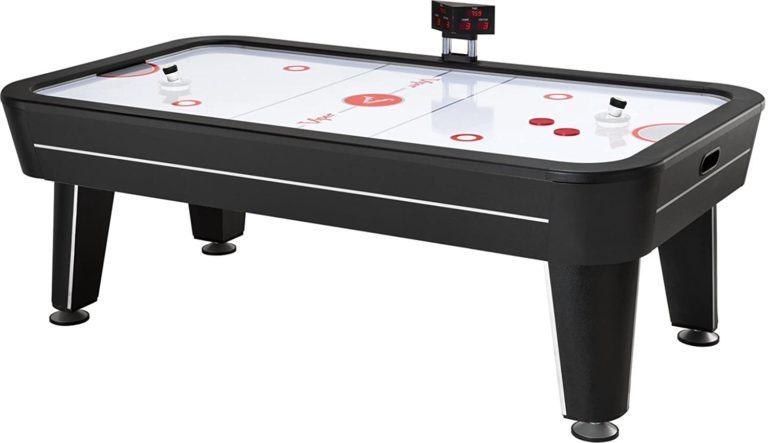 In general, it is rare to have such an opportunity for other tables to see the opponent's score. Even a player does not need to stop moving his punk or slow it down.
In a single minute, the blower process occurs up to 110 cubic feet, which helps to continue better playing speed. It comes up with a fixed leveler to make sure even playing conditions for both players.
No one gets benefited from others unevenly. The quick setup helps to play instantly with included pushers and punks.
Specifications:
89 x 48 x 32 inches

Shipping Weight: around 340 pounds
Pros
Effective table design
Easy to set up and store
Last for a long time
Excellent customer review
Cons
No off or on the switch button
 3. Atomic Avenger 8 
If you are a severe air hockey lover, then you can not deny the name Atomic Avenger 8 the most compact designed table that can beat others in the market.
The most robust construction quality with premium quality technology made the table high demanding to the air hockey lovers.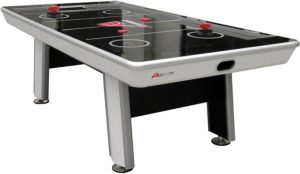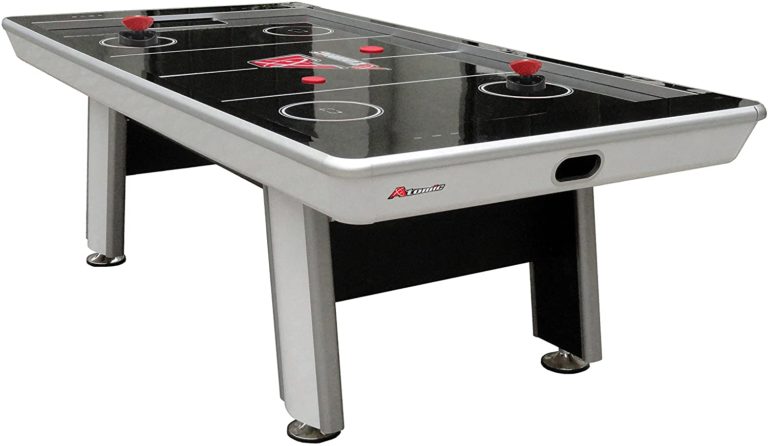 No other table can be as suitable as this one if you want to use it in the professional sector. The table provides a built-in leg leveler to adjust on any ground.
The scoreboard controls with a touch screen, and the blower is 120V, which provides an incredible gaming experience. 
 It offers a comfortable paddle for a long time to play when you need to leave but wants to play one more check. People who want to be a master of this game need the Atomic Avenger table immediately.
Do not forget to check ping pong paddles for playing an actual game to keep fit always.
Specifications:
Brand: Atomic

Weight around 290 pounds

Model: G04864W
Pros
Digital scoring
Sturdy construction
Controlled by touch screen
Included comfortable paddles and punks
Adjustable legs to play outside.
Cons
Heavy table, challenging to move
Loud motor
 4. Triumph 3-in-1 Swivel Multigame Air Hockey Table 
Among Multi-game tables, Triumph 3-in-1 Swivel is one of the best models that offer a couple of games in one spot, and the design of the table makes that happen.
If you ever feel bored playing an air hockey game, you can instantly switch to a pool game, or ping pong as well.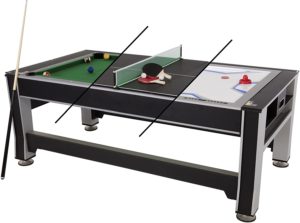 You do not require to go somewhere else to play that instead change the tabletop time to time game to game. The premium quality build will make sure to set it up well to provide stability during the game, whether you switch to others or not.
The different playable games will bring indescribable pleasure to you and your playing partners at the same time. It will go even further because the Triumph provides a free paddle, net, and balls combo. 
The superior quality air controlling system helps to move the right amount of air circulation throughout the table, which even reaches the edges.
The leg levelers adjusted the holding position of the table and fixed the playing surface correctly. The puck comes out after each score for the retrieval process.
Specifications:
79 x 45 x 9 inches

Shipping weight: around 340 pounds
Pros
Easy to set up
Take a small space
Comes with package of accessories
Perfect table length for family
Build with premium materials
Cons
A bit smaller than regular size
 5. Atomic Blazer 7' 
The third one from the Atomic brand on our list is Atomic Blazer 7' air hockey table, a shorter one from Atomic Top Shelf.
The Atomic authority did not compromise with the design and gorgeous look of this model, which covers red color on top and the combination of white with a red shade over the table made it a real playground.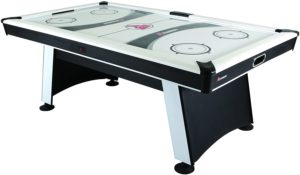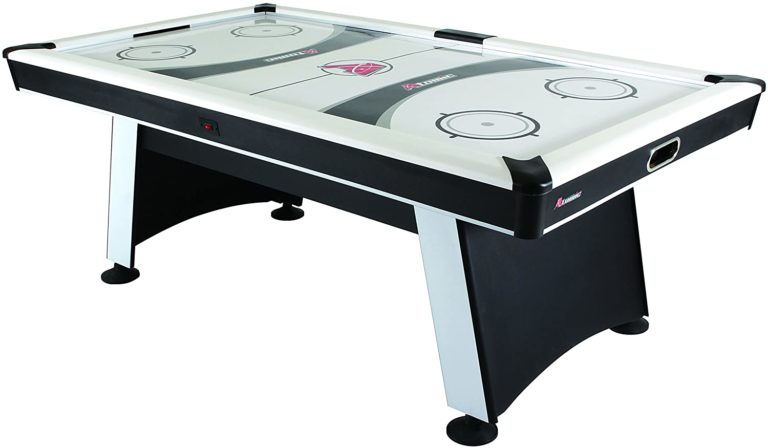 The thin upright support on the corners helps to make scores, and you can keep the pucks there and on the floor. The construction quality of the table makes sure it follows the legs out of reach of the player's legs, which is appreciable. 
A 120V high-quality bower maintains the task to keep the puck in-game, and you can easily see the score through the scoreboard. You can buy the parts separately if you have had ping pong tabletop since before. 
Specifications: 
86 x 50 x 11.6 inches

Shipping Weight: Approximately 155 pounds
Pros
Robust construction and easy to install
The sound effect adds more fun
Have an excellent scoreboard
Reasonable price
Cons
The table gets scratched quick.
 6. Triumph Lumen-X Lazer 6' Interactive 
Some people are always exceptional in using their game tables depending on their gorgeous looks and designs. If you count yourself with them then this Triumph Lumen-X Lazer 6' Interactive air hockey table can bring massive value to your life.
Various color combinations have been used in this table, including white, bright light, and shiny grey.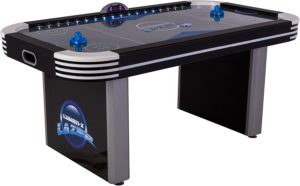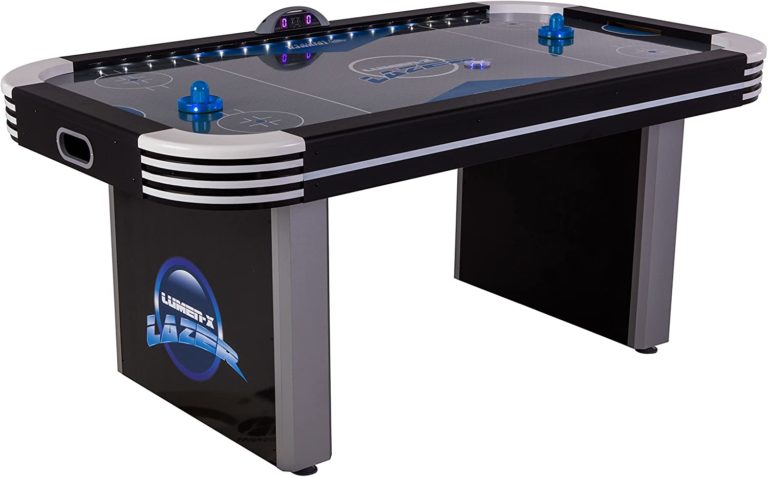 Nevertheless, the main focus goes for tiny lights, which have been settled around the corners of the table, bringing an exceptional look and attraction for the players along with audiences. Excitement flourishes further by lighting up scoreboard lights after each goal from a player. 
The game turns into extra joys when pucks and strikers light up by hitting in a shady place. The table has leg levelers to adjust the surface. 
Do not miss to check out the best baseball cleats for youth that are worth your money if you love baseball as well or want to buy for your kids. 
Specifications:
72 x 40 x 31 inches

Shipping Weight: around 11.3 pounds
Pros
Excellent source of joy for kids and all
Durable and stable
Surprise gift
Light up pucks adds extra fun.
Cons
No switch on/off the controller
 7. Triumph Fire 'n Ice LED Light Up 54." 
Now we want to talk about Triumph Fire 'n Ice LED Light Up 54" air hockey table and its name tells the exceptionality itself.
For the air hockey masters who are looking for competition purposes, this table adds the most upgraded value to them. It has two different color's pusher red and blue, which lit up when pucks hit up.
It offers pucks as well with tables that have LED inside as well.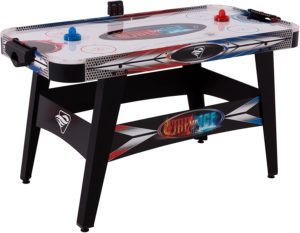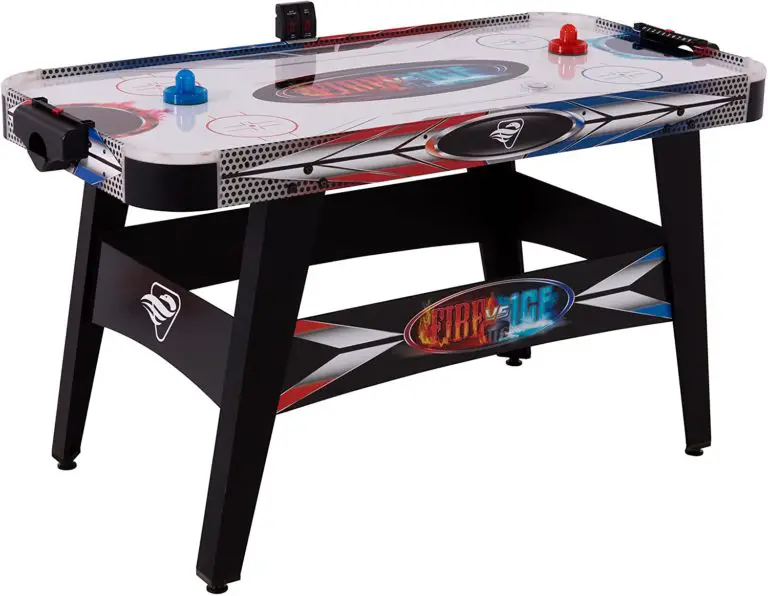 Construction cross support offers more sturdiness and reliability from wobbling to the legs, and adjustable levelers on legs make sure the even and flat surface on any ground.
There is an opportunity to power up the digital scoreboard of the table to keep track of the score, or you can go typically. 
Specifications:
54 x 27 x 31 inches

Shipping Weight: around 45.8 pounds
Pros
Ideal for teenagers and youth
Budget-friendly
Durable and effortless to set up
Super fast delivery
Cons
The fan looks lower strength.
How you can choose the best air hockey table for home review and complete guide
Before picking the best air hockey table that we have reviewed, or thinking of taking a perfect one for you or your kids, you must know the standard rules of air hockey to conduct a peaceful game.
Without knowing the basic rules would be challenging for you to manage the game situation, whether to play for recreation or a serious game.
Scoring Method
 Typically budget tables have manual scoring systems after each goal you need to change the score.
But in recent times, some tables have come with the most updated features that the scoreboard can update on its own. These kinds of air hockey tables are popular, and people love some of those features. 
Fan or Blower
Usually, inexpensive models, the puck keeps moving because of airflow through the holes of the tables generated from the motor, but some inexpensive tables need to push their puck to make a score. 
From that perspective, we always recommend that if you have enough budget to buy a table that contains at least a 110V motor, you should go for that model, which offers enough air supplies that help to keep the puck continuous.
It is better to go with a 120V motor because that ensures a sufficient amount of airflow for the puck all the time.
Power Source
The manufacturer has updated its air hockey tables over time, considering user facilities. Among them, adding a digital scoreboard has a significant impact on the user's mind since they can see both players' points from their end from some high-quality tables.
The digital scoreboard does not run without a sufficient power supply so that the tables have batteries or AC batteries.
If the scoreboards are tiny, then it can run by AA or AAA batteries, but to get the fast and forward process, it uses batteries often. 
Other than that, tables with AC adapters can power up that digital meter without extra investment in batteries.
Multigame and Combo Tables
 What is a Multi-Game or combo table? In general, words, if more than one game can be played on a single table, swiveling tabletops is called the Multi-game or combo table.
The combo tables are several steps ahead of any other game table in the sports era as it offers more than games considerably. 
Have you imagined you can play air hockey, ping pong, or pool at the same platform tilting the surfaces whenever you want to change?
Nothing can be more exciting than this thing when you can make everyone happy with their separate wishes with different game expectations in your game room.
So Multi-game tables are not only a game table but also the perfect via to maintain good relations with your loved ones.
Table Size
The right size is a significant issue before choosing the air hockey table. Because if you want to bring it for kids or teens, then you must pick a three to four feet long table. Considering the ability, the small tables are perfect for kids in your home.
On the other hand, a grown person will fit with any size table. Most of the adults play from six feet to even larger, and that made them comfortable. So you must measure the best size based on whoever you are buying a table for.
Leg Levelers
Except playing on an even ground like your game room or club, you must pick a table that contains leg levelers to make sure the flat surface during the game.
Levelers usually give you a flat situation for gaming on uneven grounds or carpets. Because of that, the table can not be wobbled during a match.
Graphic and Design
Okay, we think you have got the point of what we are going to say, right? Yes, of course, you are! Well, you must consider the graphic of the best air hockey table because the very first look can create the most energetic impact on your game.
If you feel positive watching the design of your game table that encourages you to do better in your game performance, furthermore, better designs make a game more realistic.
Playing air hockey is always exciting, and bright colors with combined bold graphics make it more funny and enjoyable. 
Factors you can look further regarding air hockey table
Table Size – Without specific purposes, table size does not matter much since you can seek fun at larger tables as well as small tables equally if you use it only for the rec room.
On the other hand, to be a professional, you must choose a larger table. Or if you have storage problems or do not want to carry heavy tables, then small tables are suitable.
Table Construction – Though air hockey is considered a competitive sport, tons of people use it for recreation purposes. Usually, kids play very rough over the table.
From that perspective, the manufacturers construct their tables with special care and make them sturdy enough. Lighting design attracts people's attention from the very first look; then, the scoreboard adds an extra benefit for the build.
High-quality materials ensure safety.
Rink Walls – The best out of the table rink walls are made from both aluminum and nylon. Whatever you choose, make sure the pucks provide the best returns from the rink walls contact. Some table rink walls ensure quick puck come back; others do not.
Motor – Motors usually supplies the necessary airflow through the holes of the tables. There is a risk from high voltage motors as they flow a considerable amount of air;
However, less air causes the puck stuck anywhere that causing problems. Usually, a 120V motor provides the right balance to play.
New vs. Used – Basically, two significant factors differ most whether to buy a modern table or a used one. First, one is looking, and the second one is the budget.
Some people do not like used tables because they may have a scratch or discolor anyway. So they always prefer new shiny tables. On the other hand, the budget may create problems going for a new one sometimes. 
Other than those, durability is another major issue of used tables since they may not have a warranty anymore or may have some defects;
Whatever it is, you can not change that. But for the new one, both are the options you get quickly. So it's your choice to pick the right one for you. 
As a sports lover, you do not want to miss the review of the best ping pong balls, we guess. Anyway, ping pong is another popular game all over the world. 
Frequently Asked Questions About Air Hockey Table
What is a good brand of air hockey table?
A good brand of air hockey table should be one that's made of solid metal and wood.
Later versions of the table are probably more durable than older models. Avoid plastic, especially if it gets wet. If you don't have a table yet, consider the Atomic Top Shelf 7.5 Table that I have mentioned in detail above, which has an excellent value and is made of strong metal.
What makes a good air hockey table?
The table should have a sturdy base that can hold up under heavy play. It should have a smooth and well-balanced feel when moving, with no uneven spots.
Are air hockey tables worth it?
Yes, it is worth it if you can find a proper air hockey table for you. How do you find out which model is right for you?
What does the "best" look like? Which brands offer a wide variety of options?
Look for the materials it is made of, see its features, check the durability and smoothness of the table surface.
You can get a quality air hockey table for a fraction of the cost of a custom-built model. Some An air hockey table can also serve double duty as a game room or party room for guests. With an air hockey table, the possibilities are endless.
What do you mean by an air hockey table, and how does it work?
Like other competitive games, air hockey is a competitive and fun game, which has been played on a table that is called an air hockey table.
As a piece of playing equipment, a puck and pusher are there. The puck passes through air generated by a motor, and each player holds a pusher to defend the puck from scoring a goal.
A motor generates power to operate the air hockey tables and provides air to the surface through the holes to move the puck. Sometimes LED lighting in both pucks and pushers or table edges adds extra excitement to the game.
How can you clean an air hockey table?
Cleaning your air hockey table is mandatory after playing for a couple of days. Better to clean after playing each day. However, clean it using a soft and moist towel all over the table.
Be careful and make sure your sheet is not steeped because it may cause wetness on the surface and the machine. 
You must turn off the motor before cleaning. You can also clean the pusher and the puck following the same criteria. 
Can I use any pucks and paddles on my table?
A significant issue in using an external material to the air hockey table must be user-friendly and mainly made for that. There will always be pucks and paddles with the table that manufacturers offer. 
Whenever you need extra material, you must check the specific model, design, and size to make sure that it fits with your table.
You should check out that properly because you know all the tables are different in size and all materials are specially made for that particular size and model as well.
You can ask about other game tables on ping pong reviewed to get better ideas and excellent reviews of ping pong and baseball.
Summary
I hope this article has helped you to choose the best air hockey table for your purpose.
Best air hockey tables are designed with quality material and superior construction, making them perfect for any game room or home.
They have an attractive design with a durable metal frame while featuring the latest technology in ball bearings.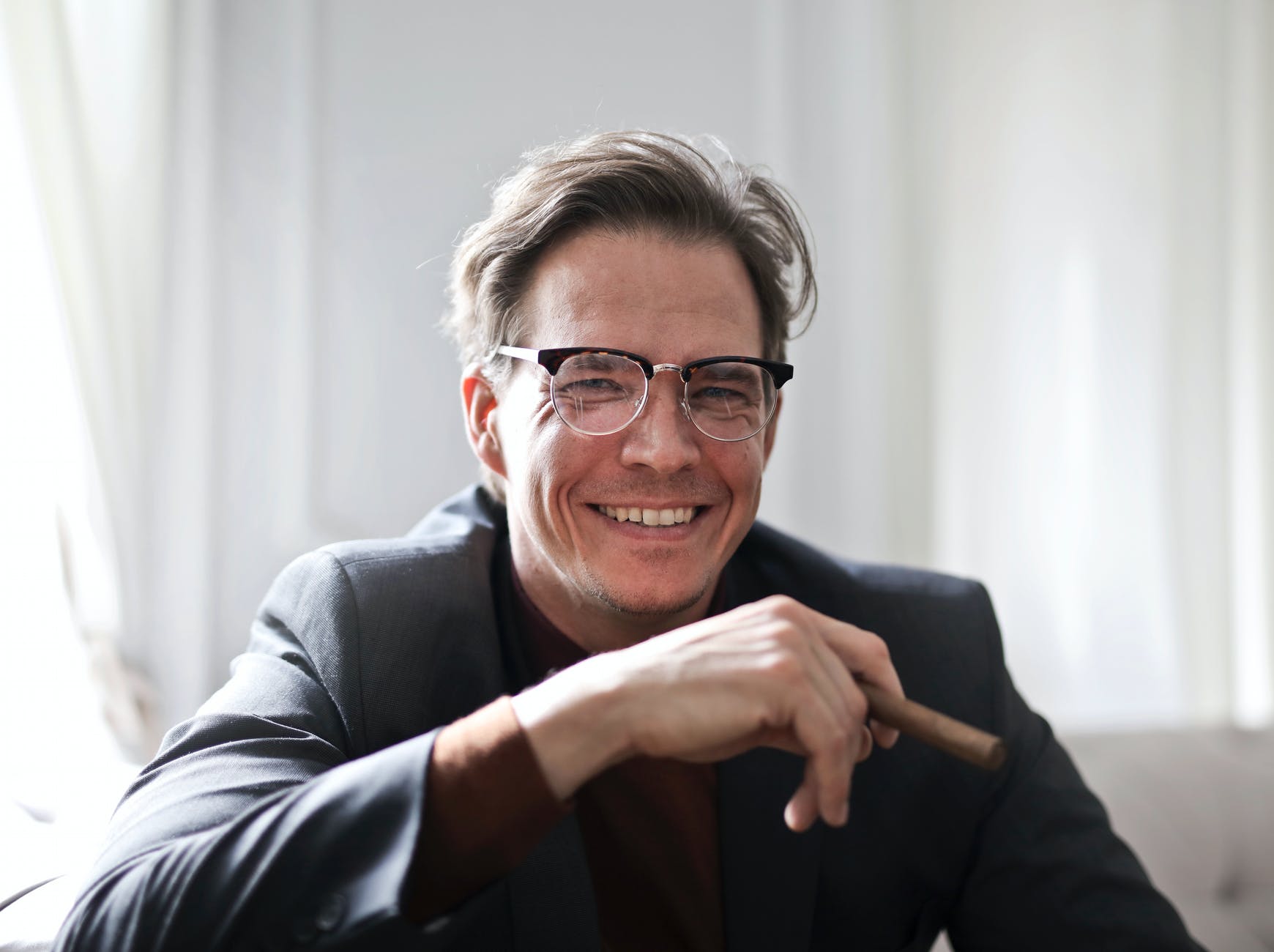 Hi, My name is Benjamin Fink and I am the author of the ping pong reviewed blog. I am a sports person learning and sharing my knowledge with others about ping pong and other sports.
I have been playing ping pong for the last 17 years and teaching people about the game and writing new things about the game through this blog When finding something new. I have participated in serious ping pong tournaments in my country.